The Ultimate Porta Potty Rental Guide
Porta Potty Pros helps thousands of customers rent porta potties each month. Whether you refer to them as porta johns, porta-janes, porta loos, porter potties, or portable potties, you won't find a better source anywhere else. This extensive porta potty rental guide will walk you through all the steps including the types of events porta potties are great for, available features, tips to choose the right amount of restrooms for your event, porta potty rental prices, placement tips, choosing the right type for your event and much more.
Rent Porta Potties For All Types of Events
Portable restrooms are the most affordable, convenient option for tons of different events and outdoor locations, including:
Auctions
Backyard parties
Beaches
Camp grounds
Concerts
Construction sites
Disaster relief
Fairs
Festivals
Golf courses
Outdoor events
Outdoor markets and flea markets
Outdoor weddings
Parades
Parking lots
Rest areas
Running events and races
Sports stadiums
Sports tournaments
Choosing the Right Amount of Porta Potty Rentals for Your Event
One of the most difficult things for customers to figure out is how many portable toilets to rent for their event. Here is a chart that gives an estimate for how many you will need for your event. Keep in mind that if you are serving food and beverages you will need more restroom rentals.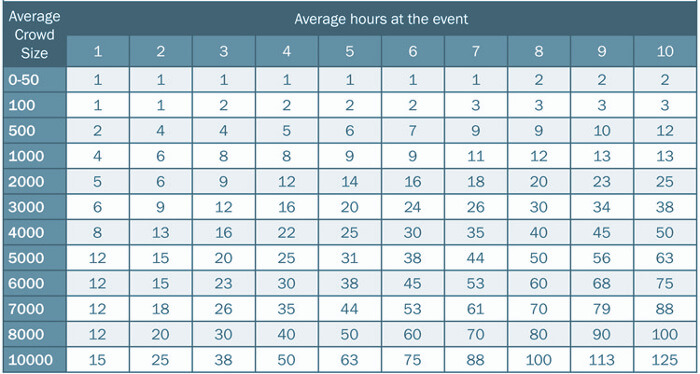 This chart can give you a good idea of how many you will need, and your local expert can also help you decide on the amount for your specific event. Our local experts have years of experience setting up porta potty rentals for all types of events, so they can easily assist you with any questions regarding capacity.
Tips for Getting Accurate Porta Potty Price Quotes
In order to obtain accurate porta potty cost estimates from local providers, it's important that you provide them with certain details about your needs. You will need to supply them with standard contact information such as the address of the event or site (cross streets are often ok), your phone number and email. You will also need to provide them with details about your event such as how many people will be using the restrooms, how long the event lasts, if food and drinks are going to be served, what features you'd like, types of portable toilets you want, and if pumping or cleaning is necessary. Keep in mind that the more detailed you are, the more accurate your pricing will be, and that you will also get the best possible products and services suited to your event.
Porta Potty Rental Cost Guide
The most common question that customers have when looking for portable potty solutions is "How much does it cost to rent a porta potty?". Here at Porta Potty Pros, we know that our customers main goal is to get the best price porta potty rentals, which is exactly what they get. Pricing depends on a few different factors such as the type needed, how many units you need, the rental duration, as well as features you want. Here's a breakdown of porta potty costs: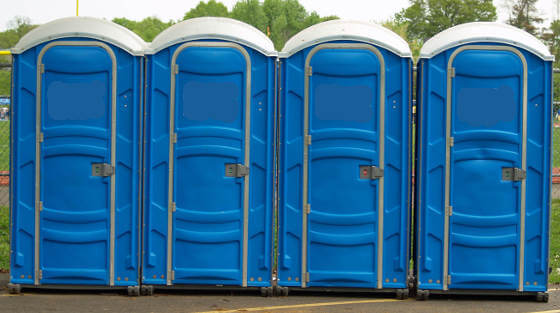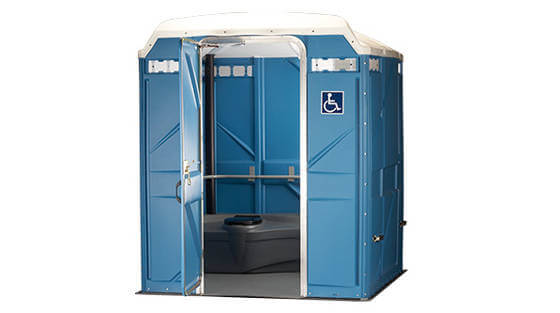 Tips for Location & Placement of Porta Potties
Experienced event planners know the importance of properly placing restrooms at an event or jobsite. Porta potty locations should be clearly marked, easy to get to, located in high traffic areas, and lines forming at restrooms should not block traffic. Placing restrooms near food and beverage stands is always a good idea, as they are high traffic, and people can go to the bathroom while others wait in line. If you are putting porta potties on a construction site, make sure that they are spread out evenly so that your workers don't have to walk all the way to the other side of the site to use the restrooms. In addition to placing the porta potties in convenient areas that don't block paths of other people, it's important to leave room for the septic pumping truck to have a clear path to the restrooms. Your local porta potty company will be able to help you decide where to place the units so that they are convenient and well placed for maximum efficiency.
Porta Potty Service, Cleaning & Pumping
One of everyone's biggest concerns when it comes to renting, as well as using a porta potty, is how clean the units are. Proper cleaning and service is crucial to keeping your guests happy. It's important to make sure that your company provides details about exactly what you are getting when you rent from them. Before choosing a supplier you need to make sure that cleaning and service is included in your quote. For large events you may need to pump and service units each day or even multiple times a day, and for construction sites you may only need to schedule service once a week, twice a month or monthly.
Some companies offer full-service cleaning while others may charge for certain things. Always make sure that you know whether your regularly scheduled service includes:
Interior wall sanitation
Paper towels
Sanitizing liquid
Septic tank pumping/cleaning
Soap
Toilet paper
Urinal sanitation
Water
What Type of Porta Potty Rental Should I Get?
The type of portable toilet solution that works best for your needs depends on many factors. Different types can have dramatically different costs, and are more suited for different events. Here's a breakdown of types of events that each type is suited for, as well as some pros and cons of each type.
Type
Good For
Downsides

Special Event Porta Potty

Weddings
Festivals / Concerts
Parks / Sports Fields

They aren't as spacious or as nice as other types of units.

ADA Accessible Toilet

In many cases these units are necesary for complying with laws and regulations.

They are slightly more expensive than standard and special event units. They also take up significantly more room, and space is often a concern at event sites.

Restroom Trailer

Weddings
High End Events
Offices (during bathroom renovation)

Cost is the major downside when it comes to restroom trailers as they are significantly more expensive than standard units. They are also less flexible in terms of layout options.
Keep in mind that there are rules and regulations that require certain events to have ADA handicap-accessible restrooms. Jobsites for construction workers also have regulations for number of restrooms that must be accessible to employees. Your local porta potty company will help you with the rules and regulations if you provide detailed information in your quote.
Other Portable Sanitation Solutions for Events
Porta potties are just one aspect when it comes to providing a complete sanitation service for events. Here's some other popular products that you may want:
Portable Handwash Stations - These are equipped with running water, soap, and paper towels. These are a great option for classy events.
Hand Sanitizer Stations - These are great for cleaning hands and they don't take up very much space. They are also a more affordable option compared to a hand sanitizer station.
Shower Trailers - Shower trailers can be great for camp sites and other long term events.
Are you ready to get a price on a port o potty rental? Request a quote via email by completing the quick contact form or you can call one of the local suppliers in your area right now. You won't find a better selection or lower rates anywhere else!